full width paragraph
We know it's hard when the power goes out.
We work hard to make sure that doesn't happen, but when it does you can be ready!
You can report your outage, stay-up-to-date, and be prepared by using the provided tools.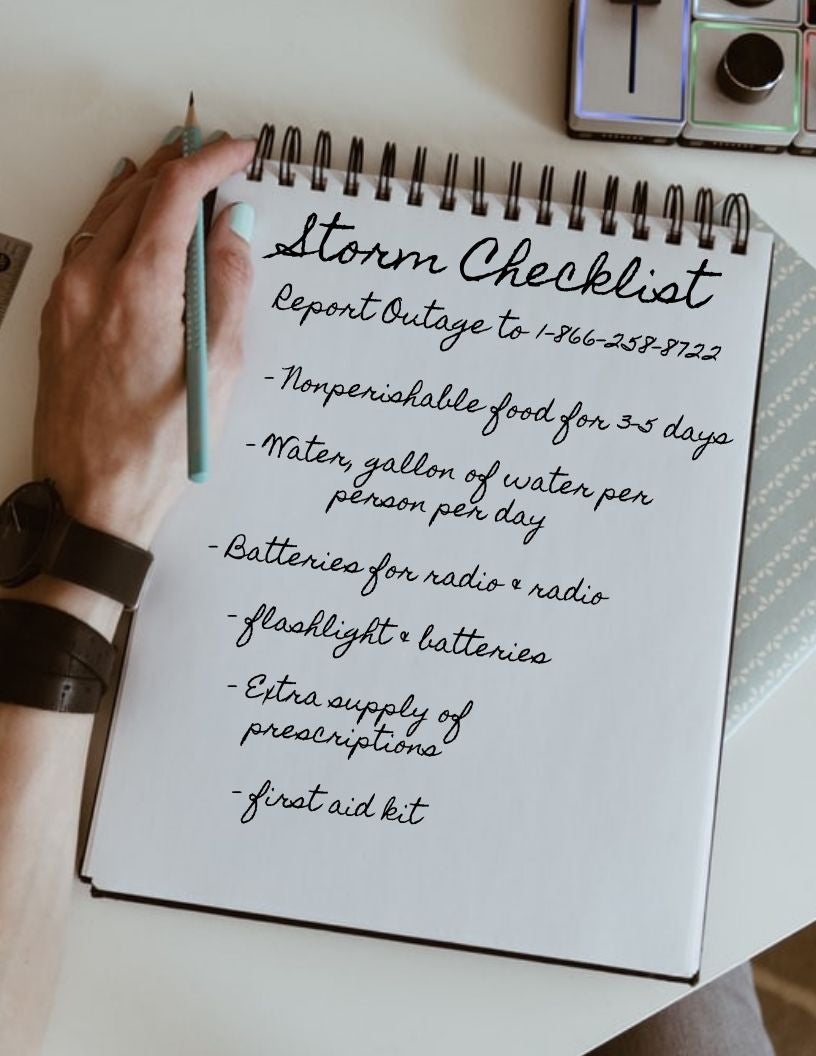 Power Outage Checklist
Keep a 3-5 day supply of drinking water in plastic bottles. Plan on at least 1 gallon of water per person, per day.

Store a manual can opener with enough nonperishable foods for 3 to 5 days. Canned meats, tuna fish, and peanut butter are good foods to store. Don't forget food for pets!

Conserve water by using paper plates and plastic utensils.

Use a grill for outdoor cooking.
Have a portable, battery-powered radio with extra batteries and alarm clock.

Have charged cell phone power banks or a non-portable phone that will work even if power is interrupted.

Plan where to meet and how to communicate with family members if separated.
Keep plenty of gas in your car.
Keep matches, propane, charcoal and firewood.
Coordinate with neighbors for care of the elderly and disabled who are living alone.

Maintain a supply of prescriptions, nonprescription drugs, vitamins and special dietary foods.

Keep sanitary and personal hygiene supplies replenished. Premoistened cleansing towelettes are useful and help conserve water.

Use plastic trash bags and ties for garbage.

Put first-aid kits in your home and car.

Make sure you have cold weather clothing, foul weather gear, blankets and sleeping bags.

Consider purchasing alternative UL-approved heating devices. For example, a fireplace insert or woodstove will keep the heat in your home instead of up the chimney.

Use flashlights and other battery-operated lighting instead of candles.

Keep fire extinguishers fully charged.

Fill your bathtub with water for bathroom use before the storm (if you have a well).
Outage Tips
Stay away from downed electric lines. Don't touch them, even with a stick.
 If your house is the only one without power, check your circuit breakers.
Don't call 911 just because your electricity is out. Call 911 only if there is an immediate danger, like a downed power line. Otherwise, call Barron Electric at 1-866-258-8722 or sign up for outage texting below to report an outage.  Please note:  your mobile number will need to be on your account information to sign up for outage texting.
The food will stay colder if the door is kept shut. If the freezer is full, frozen foods can stay frozen for two days. When power returns, throw out anything that smells unusual.
Dress warmly during winter outages. Several lightweight loose layers of clothes will keep you warmer than one heavy layer. Put on a hat for extra warmth.
Know how to override your electric garage door opener so that you can easily remove your vehicle during an outage.